Car Valeting and Detailing Navan, Co. Meath
Why Choose Us?
We are probably one of the only self-sufficient car valeting and detailing companies. We harvest our own electricity with PV panels and also harvest our own clean filtered rainwater, we also recycle all our waste & use only
biodegradable products.
We pride ourselves in cleaning each car to its former glory. Car valeting and detailing can take a full day or more depending on the vehicle ranging from your average Irish cars to exotic sports cars.
The difference is in the detail. We try to cover every square inch inside and outside of every vehicle. We care for your vehicle, which is possibly the second most expensive item you will ever own.
We highly recommend the swirl-free finish to make you fall back in love with your car. We check for minor marks or scratches before polishing to achieve the best results. We also offer touching up of minor imperfections that simply can't be removed with our exact colour touch-up system mixed on site.
We carefully detail the whole interior of the car and evaluate every part of it, from crevices and corners, edges, even hidden areas and make sure to have a dust-free finish every time. Years of experience have helped us choose only the best tools and products on the market to make sure the job is done right.
Every car detailed is an advertisement for our business, as the saying goes "you are only as good as your last job". We are proud of placing our Car Lovers sticker (optional) and our logo air freshener in each car.
Check out our amazing Facebook Reviews and Google Reviews or browse through our transformation gallery on Facebook or on our website.
We suit all budgets, so call us for a quotation today.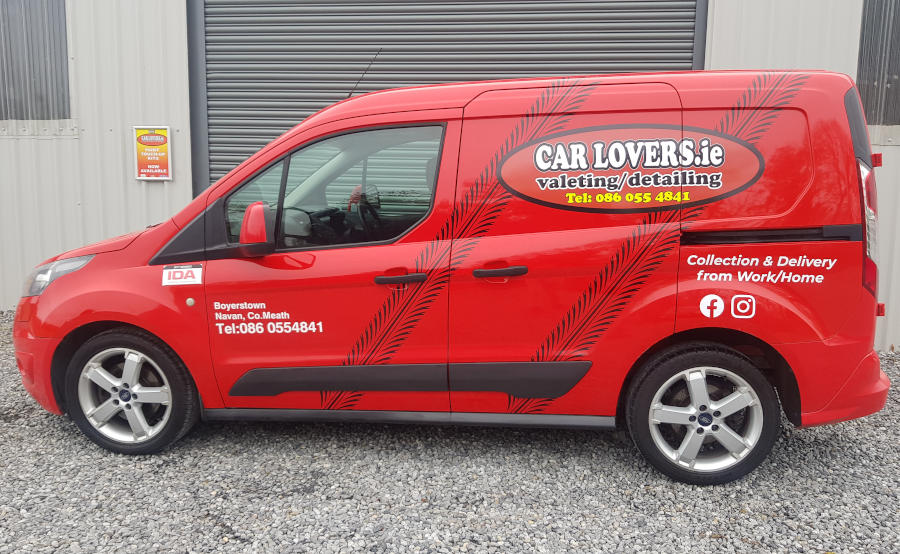 Valeting
Mini Valet
Exterior Valet
Half Valet
Interior Valet
Full Valet
Detailing
Decontamination Wash
Mini Detail
Enhancement Detail
Paint Correction
Total Paint Correction
Extra Services
There are a number of extra services we provide. Most of the services are offered at €20 each. Click on the button below to view all services.
Odour & Virus Eliminator
This treatment will kill off 99.9% of bacteria and viruses and serves to permanently remove bad odours. 
Recent Products From Our Shop Great service. My car looks like new. I dropped my car over early this morning and it was ready for collection at 5.15. To say it was clean would be an understatement. Michael had my car spotless, both inside and out. He touched up some paintwork that had come off the front bumper and machine polished the sides. I wish I had before and after photos, as my car is unrecognisable. We've used his services a couple of times now, and would recommend CarLovers to anybody!
Got a mini valet from car lovers and my car has come back brand new. Absolutely thrilled with it. They did a great job. Such a handy service having it picked up and dropped off at home. Will definitely be recommending to my family and friends!!
Got my car done yesterday with the lads and I'm absolutely delighted with the results it was fully valeted, buffed and paint touched up it's like a new car after coming out of the garage. I
would highly recommend Michael and the team well done carlovers
Gift Vouchers
Why not give someone special a gift voucher and let them choose their own service?
Service Booking
You can now book your chosen service online in advance. Just click on the button below.